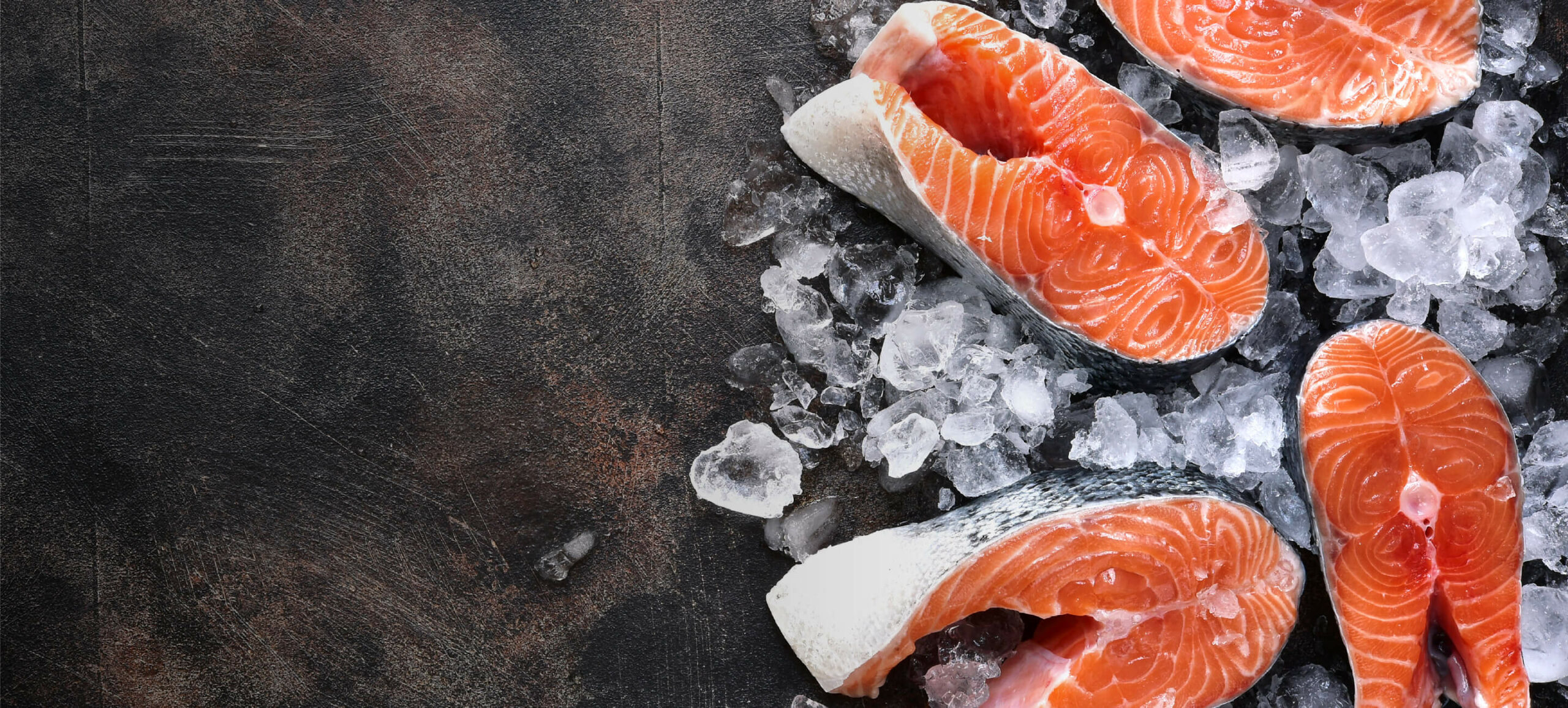 RESOURCES & EQUIPMENT
There's a lot to know about ice — that's
where we come in.
Put our knowledge of the ice and refrigeration industry
to work for you.
We know the types of ice, we know the ice equipment, and we know how to care for the equipment. But more
importantly, we know how to apply that knowledge to help you make the right decisions for your business. We can
help you estimate your ice needs and help you select the right equipment.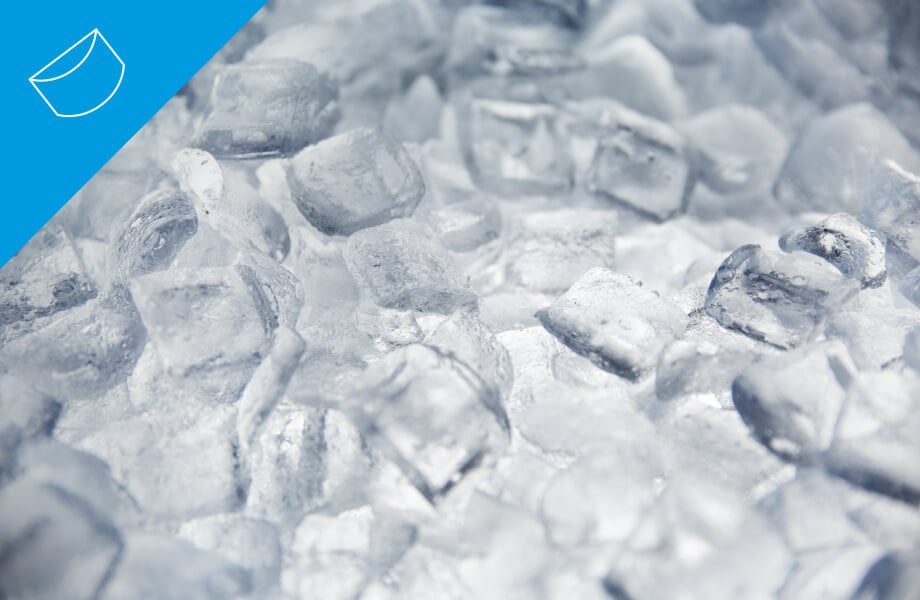 Crescent ice
Crystal clear crescent ice, sometimes called half-moon ice, is a classic ice shape. Crescent ice resists clumping, making it an excellent option for cocktails, soft drinks and any other reason you need ice. And when a large supply of ice at the ready is needed, crescent ice's slow melt rate makes it ideal for freezer storage.
Square ice
Bring sophistication and beauty to cocktails and specialty drinks with square ice. Highly versatile, square ice cools liquid quickly but melts slowly, maintaining the integrity of signature cocktails from start to finish.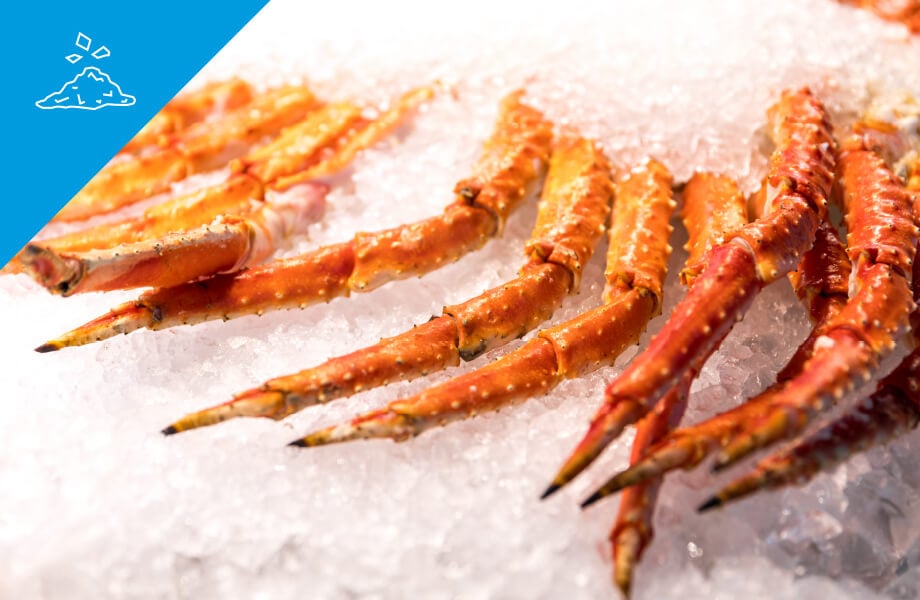 Flake ice
The "pillow of the ice world," flake ice is soft, small, and tends to stick together. It easily holds objects placed on top of it—whether it's fresh fish at the local market or a dozen oysters at a fine restaurant. Flake ice, also known as crushed ice, is known to have more of a texture than a shape.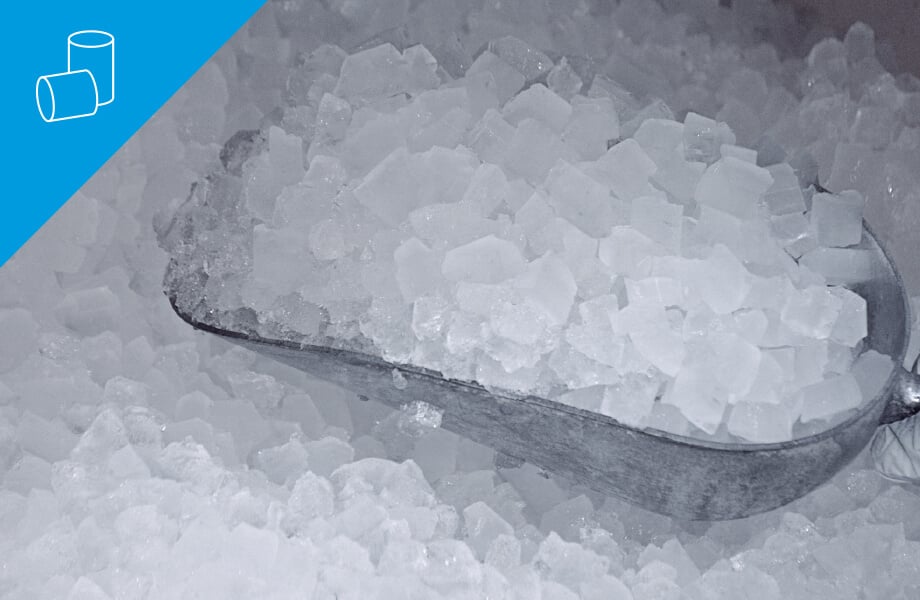 Nugget ice
Nugget ice is soft and chewable, making it a favorite to give to patients in hospitals. It works well in drink and food presentations because its small shape doesn't distract from the main attraction and quickly absorbs the flavor of any drink it cools. Companies like Chick-Fil-a use this popular ice.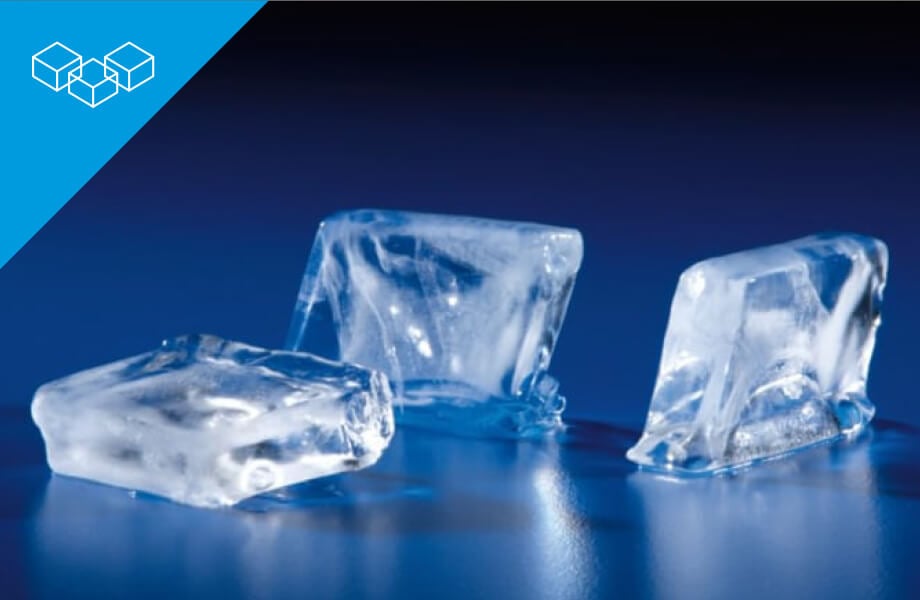 Dice or half dice ice
Take drinks to the next level with slow melting dice ice. Its extraordinary shape resembles a flat square, almost as if someone sliced cube ice into smaller pieces. Dice ice is also perfect to showcase beautiful barware, as its small shape leaves less room around the cube, making drink glasses appear fuller.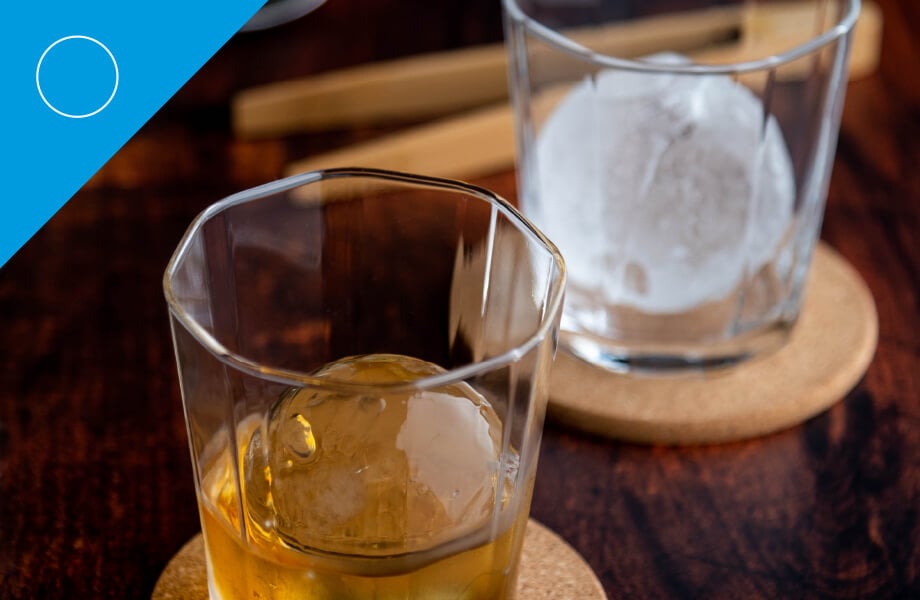 Sphere ice
For the discerning customer, sphere ice is the ultimate high-end ice that gives cocktails showstopping appearances. Its low surface area to volume ratio allows for the quick cooling of drinks with little dilution. After gaining popularity in Japan, sphere ice has become "the ice" for mixologists who specialize in craft liquors and limited-ingredient cocktails like the Old Fashioned.
Want to know more? Give us
a call and let's talk ice.
ICE ESTIMATOR
How much ice
is enough?
Not sure how much ice your business needs on a daily basis? This chart serves as a general guideline for how much ice your business may require. This chart is for general estimating purposes only; talking with one of our experts is the best way to determine your specific ice needs.
Quick Serve
Restaurant
5 oz per 7–10 oz drink
8 oz per 12–16 oz drink
12 oz per 18–24 oz drink
Seafood/Deli
30 lbs per cu. ft. display
Grocery Store
35 lbs per cu. ft. display
LBS OF ICE
X
NUMBER OF
CUSTOMERS SERVED
=
THE SIZE
OF ICE MAKER
YOU NEED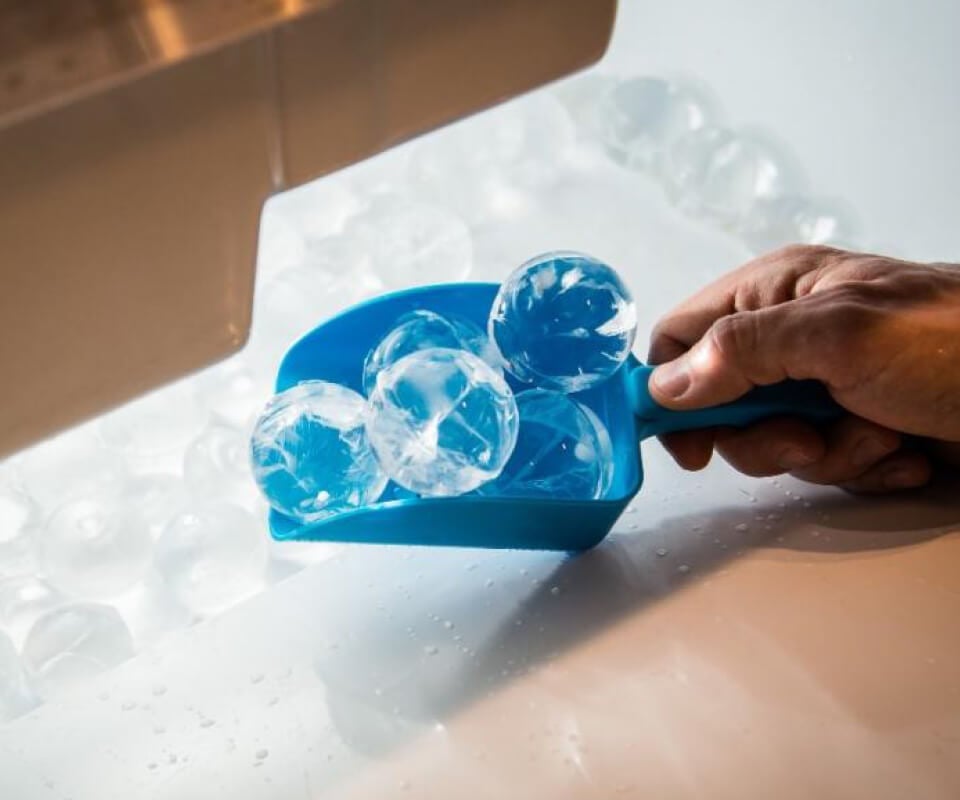 Our equipment
To safeguard your revenue stream, you need the best. The best service. The best support. And the very best ice-making and refrigeration equipment available to lease. Empire Cooler's equipment advisors will guide you through our commercial ice machine model selection from Hoshizaki, Manitowoc, Follet, MGR, and more. They'll walk you through the model options and determine the best fit based on the amount of ice you need, the size of ice machine your business can accommodate, and your budget.
Air Cooled Ice Machines
Water Cooled Ice Machines
Remote Cooled Ice Machine
Commercial Water and Ice Dispensers
Hands-Free Ice Dispensers
Reach-in Refrigerators and Freezers
Walk-in Refrigerators and Freezers
Bar Back Refrigerators
Refrigerated Prep Tables
Let us help you find the right equipment.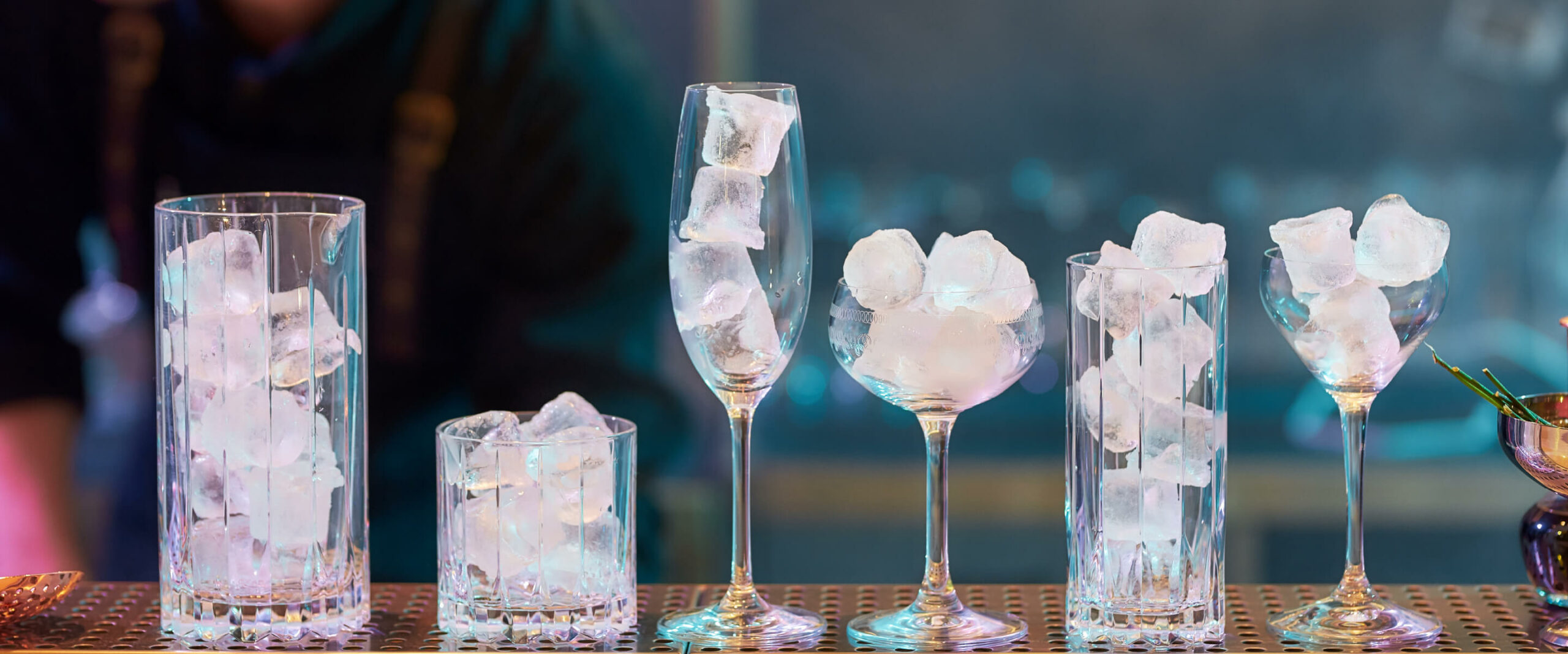 Caring for your equipment
Maximize the performance of your equipment with proper setup and regular cleaning
and maintenance. These simple steps can help prevent potential problems down the road
and keep your ice machines—and your business—running efficiently.
Proper Ventilation
It's important to keep fresh air flowing around your ice machines for maximum ice production. Without proper ventilation, ice cannot freeze properly, which can lead to problems. Check that you have enough space for hot air to escape so your machines can operate at peak performance. Before each installation, our ice experts will make our customers aware of requirements and suggestions for spacing your machine properly.
Cleaning
A clean ice machine is a more hygienic machine. Weekly: wipe down and sanitize the ice bin exterior. Monthly: empty, disinfect and sanitize the ice bin and underside of the machine. In addition to the health benefits, a properly cleaned machine can produce more ice while lowering water and electricity costs. Empire Cooler checks for build-ups caused by dirt and mineral deposits. So by keeping it clean, you'll also be keeping it efficient.
Drainage
Proper drainage is critical for ice and refrigeration equipment to operate at peak performance. Small amounts of water develop when ice is stored and slight melting occurs. Each ice machine has a required length for output. Our ice experts will make you aware of these recommendations before installation. Though the volume of water should be small, our installation experts will make sure that the water has adequate drainage.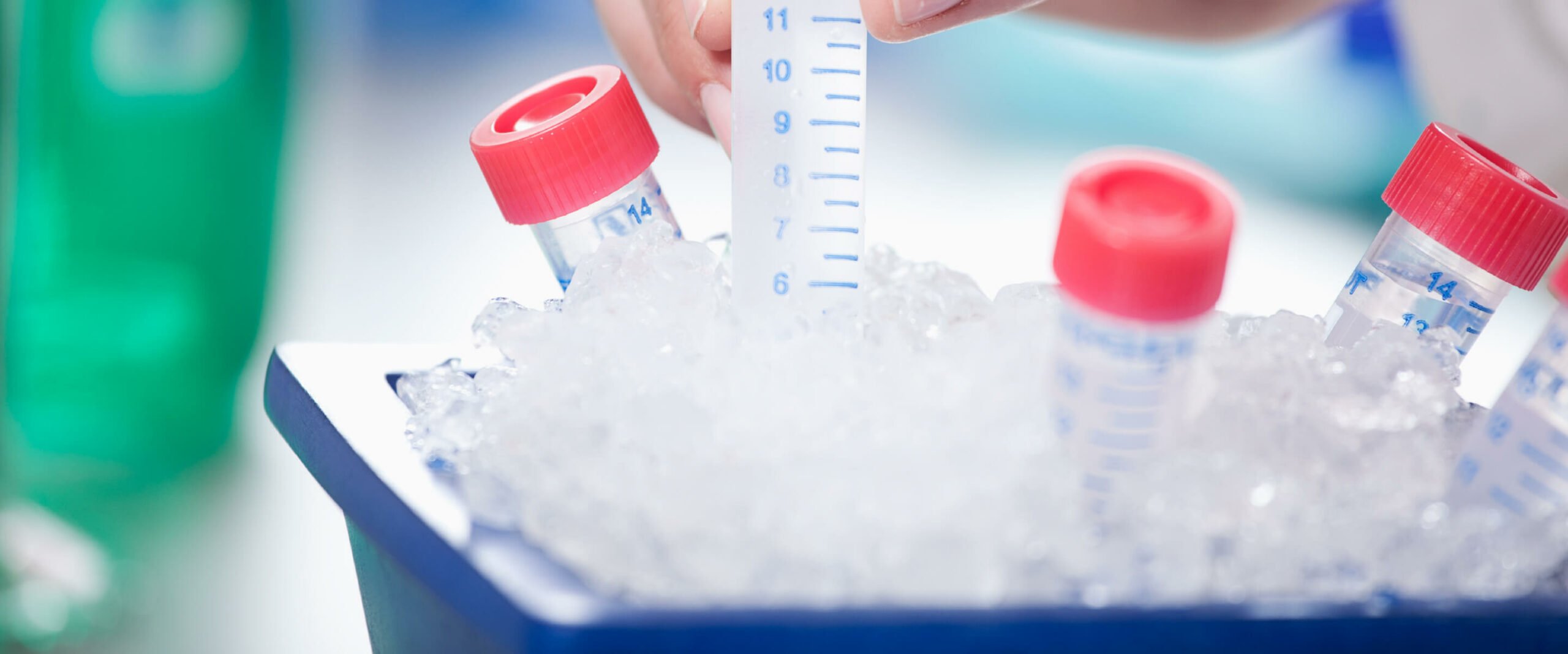 The science of ice machines
Outdoor and
indoor temperature
When surrounding air temperatures rise above 85°F or drop below 20°F, the ice machine's production rate can be impacted, resulting in slower ice production. Air cooled machines are particularly susceptible to such impact.
Water purity and quality
Poorly filtered water contains salts and dissolved solids that create deposit build-up inside the ice machine, which can lead to white-looking or cloudy ice. If not addressed, the shape of the ice as well as taste can be impacted. Water quality varies all over the country, but any water chemistry challenge can be solved by having the right machine setup, properly fitted filtration and regular cleaning and maintenance.
What difference does
ice shape make?
Ice helps create the perfect consistency and aesthetic for drinks. With an aged whiskey, you may want slow-melting ice for as little extra water as possible, while in a mai tai, you may be looking for quick-melting ice to give it a slushy consistency.
The more surface area a piece of ice has, the faster it will melt. Flaked ice, with its thin chip-like consistency, melts the fastest while dense sphere ice melts the slowest.
Ice consistency
For us, consistency is everything. A consistent water flow with consistent filtration creates stronger cubes that don't deform or crumble when hit by a scoop. Inadequate water flow or improper filtration could result in weaker cubes that are variable in size. Our experts will ensure that the water is flowing correctly so you can have ice consistency, consistently. Which is great news for your bottom line.
Machine mechanics
Even if you have top-of-the-line equipment, small variables in cleanliness and temperature conditions make a big impact on performance. Clean surfaces are essential, especially for an ice machine's interior—when dust and debris accumulate around parts, machines are slower and produce less ice.
Expert technicians
You don't become the best in the business by just knowing what's in the book. Our experts' training spans beyond getting factory certified. Each technician must go through our intensive and highly focused internal school to ensure that they know your equipment, know your business, and most importantly, know how to support you. They are seasoned problem solvers and terrific partners.
"The Empire employees
understand our business and
are always there to help us
when they say they will be there. They always come through."
Contact our sales team to see how we can help your business.