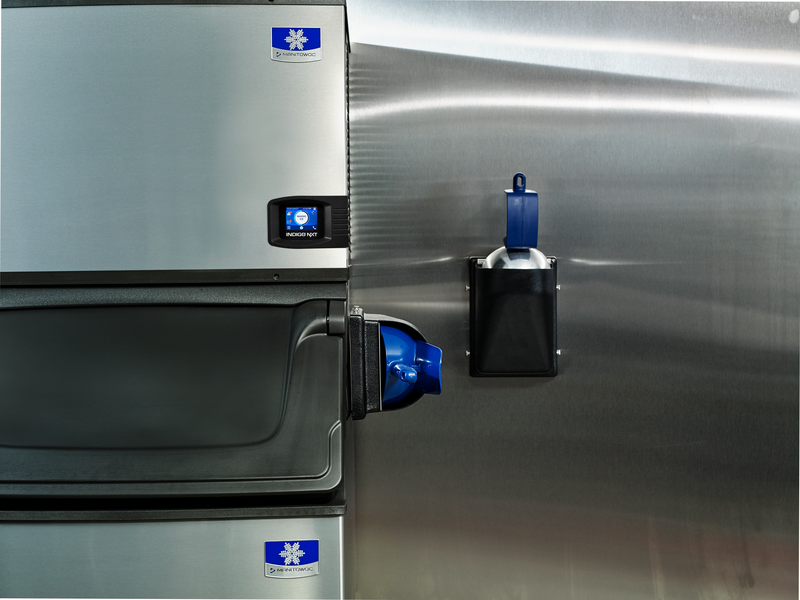 Commercial Ice and Refrigeration
Equipment in Chicago
We lease the brands you trust.
Empire Cooler offers a full selection of commercial ice machines and refrigeration at an affordable price.
While other companies only offer one to two selections of brands, we pride ourselves on finding the perfect
equipment for your ever-growing business. With that in mind, we offer a selection of the top brands in ice-making
and refrigeration equipment. Our ice experts are ready to help you through the process.
Our selection of commercial ice equipment.
Air-Cooled Ice Machines
Air-cooled ice machines are more popular because in some cities water-cooled it is not recommended. Air-cooled ice machines are better for the environment, and your wallet. Air travels through the machine and removes the internal heat which is let out through the sides and rear.
Water-Cooled Ice Machines
While the air-cooled ice machines release the hot air, water-cooled ice machines use the same method except with water. The hot water drains out through the unit to maintain the correct temperature. No matter the temperature outside of the machine, water can always cool down which is great for areas with warm weather year-round.
Remote Cooled Ice Machines
Remote-cooled ice machines are more likely to be used in businesses that have roof access. Businesses like Mcdonald's lease our ice machines that are placed on top of the roof for their drive-through stations. Remote-cooled ice machines are less noisy and puts the access heat outside. This is perfect for smaller kitchens in cooler climates. Air-cooled ice machines are popular in the fast food industry.
Under-Counter Ice Makers
If you are in the medical field or want your employees to enjoy crushed ice in their beverages without dipping their hands into a large bin then this is the perfect machine for you. An under-counter ice maker is perfect for small spaces. These types of ice makers create clear and crunchy ice quickly and efficiently.
Ice & Beverage Dispensers
The most sanitary of ice machines come at the push of a button or at a wave of a hand. Offices and fast food restaurants utilize these types of machines the most. Our ice machines are tailored for drinking water, easily dispensed ice, and soda options.
View ice & beverage dispensers
Bins & Accessories
Bins are perfect for hospitals and large ice-consumption businesses. While other ice machines can sit on top of your counter, others need bins to distribute ice. Whether you need a large or small bin, we have a full selection of bins to fit any space. Some machines and dispensers can have a hands-free option.
View bins & accessories
Our selection of commercial refrigeration.
Up-Right Refrigeration
Up-right and reach-in refrigeration are great for your restaurant, bar, bakery, catering business, hotel, and any business that is in the food and beverage industry. We have a large selection of reach-in freezers and refrigerators, combinations, and solid, and glass door options.
View up-right refrigeration
Under-Counter Refrigeration
Under-counter refrigeration is used primarily in the medical industry and office settings. These small compact refrigerators are made for spaces that are limited while keeping your medical and drinks cool.
View under-counter refrigeration
Walk-In Coolers & Freezers
The largest refrigeration in our collection is for businesses that need to keep bulk items cold and frozen. Not all spaces are the same size so we lease all shapes and sizes of walk-in coolers & freezers. Our refrigerators are ideal commercial walk-ins for kitchens and restaurants. Our equipment ranges from refrigeration units to large walk-in freezers.
View walk-in coolers & freezers
Refrigerated Prep-Tables
Refrigerated prep tables are flat with surfaces for preparing food like pizzas, sandwiches, sushi, and other items that need to be held at a special temperature. There should be additional storage underneath the unit for cold storage.
View refrigerated prep-tables
Refrigerated Display Cases
From grocery stores to gas stations, our refrigerated display cases range in size. Your go-to food and drinks fit perfectly inside this machine while keeping it fresh and ready to take. We have a large selection of dry and refrigerated bakery cases, sushi displays, glass top displays, and deli cases.
View refrigerated display cases
Merchandisers
Our merchandisers are sized for convenience stores, drug stores, and supermarkets. Our sales support team can get you on track for a short-term or long-term rental.
View merchandisers